Articles for children
The company ELGROM was founded in 1990.. In the beginning their main occupation was wholesale distribution of children's articles. This activity was next extended by introduction of several own models, importing attractive goods from the Far East and creating a distribution network in all of Poland using other companies from the same branch. Sales and Distribution of children's articles is oriented to the age groups 0-18 yrs.
These are: infant accessories, car seats, baby walkers, tricycles, 2-wheel BMX-bicycles, cars with electric and petrol engines, etc.,
The Banquet Hall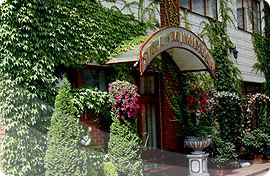 The Banquet Hall and Ballroom – a great party in a 2-storied and air-conditioned ballroom. An exquisite quisine, friendly and professional staff will make your stay an unforgetable experience. The suite for newly weds is free of charge ! The parking place is watched over. Wedding receptions, special events, training courses, proms and guest-rooms.